Podcasts are the perfect way to stay current on the news of the day while on the move. If you're already an avid podcast listener, you know how great this can be. For the skeptics, listening to a podcast is like reading, but easier. Even better—you can listen anywhere, anytime. Whether it's during a commute, at the gym, or as you're running to your next meeting, podcasts should become your new healthy habit to stay on top of what's trending in healthcare.
With over 700,000+ podcasts to choose from, we understand it can be daunting to figure out where to start. The good news is, we've narrowed it down to the best of the best in healthcare so you don't have to. From policy to education to the downright weird, these 20 healthcare podcasts cover everything you need to stay informed and entertained in 2020.
#1—#HCBiz Show
This podcast is perfect for those that believe innovation in healthcare is necessary, but require a practical approach before diving into the deep end. They've started a conversation about how to create a space for innovation through the use of technology. They identify issues that impede change, explain why these hurdles exist, and find ways to work with, through, or around them.
Can't Miss Episodes
#2—10% Happier with Dan Harris
In this podcast by Dan Harris he tackles the question: can you be an ambitious person and still strive for enlightenment? In each episode he talks with smart people about whether there's anything beyond 10%. Also available are bonus meditation episodes to help you find your zen and live a more intentional life.
Can't Miss Episodes
#3—Bright Spots in Healthcare
Bright Spots is a podcast focused on finding what's working in healthcare and how others can be inspired to make a difference. Each episode focuses on a different healthcare innovator that shares their strategies, tactics, tools, and routines that listeners can implement in their own organization.
Can't Miss Episodes
#4—Data Book by Healthcare Analytics News
Data Book is a podcast that spotlights interesting stories and insights in healthcare technology. It's a podcast by Healthcare Analytics News that covers topics like disruptive innovations in healthcare, big data, artificial intelligence, and the diverse impact innovation can bring, especially from a cybersecurity perspective.
Can't Miss Episodes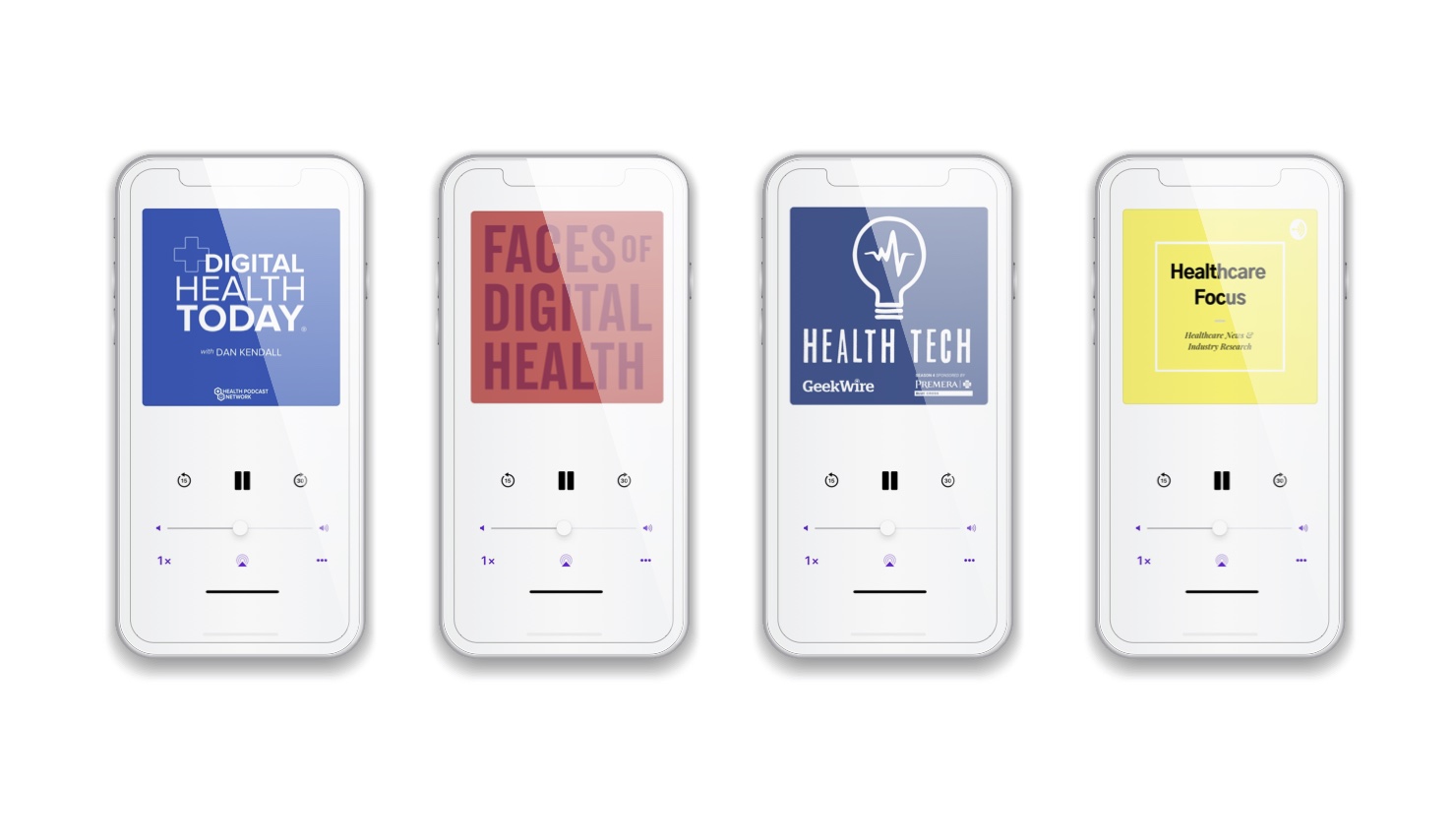 #5—Digital Health Today
Digital Health Today features pioneers and leaders reshaping the health and wellness sphere. They speak with guests from around the world who offer diverse perspectives, insights, experience, and knowledge from the front lines of health tech innovation.
Can't Miss Episodes
#6—Faces of Digital Health
Faces of Digital Health is a podcast on digital health, exploring how different healthcare system adopt technologies in healthcare. It aims to satisfy curiosity about different cultures, identify barriers to success in different countries, and find answers and advice for accelerating the success of digital health entrepreneurs.
Can't Miss Episodes
#7—Geekwire Health Tech Podcast
Geekwire hosts this podcast focusing on health tech trailblazers that explore the cutting edge of digital health. Each episode highlights a new story about disruptive healthcare technologies for patients, doctors and more, providing a window into the future of health.
Can't Miss Episodes
#8—Healthcare Focus
Healthcare Focus is a podcast that follows and reports on the latest healthcare news and industry research. If you're curious to know critical healthcare trend highlights and thought-provoking insights from industry experts, this podcast is for you. Each episode dives into a new topic from big data to SDoH—they cover it all.
Can't Miss Episodes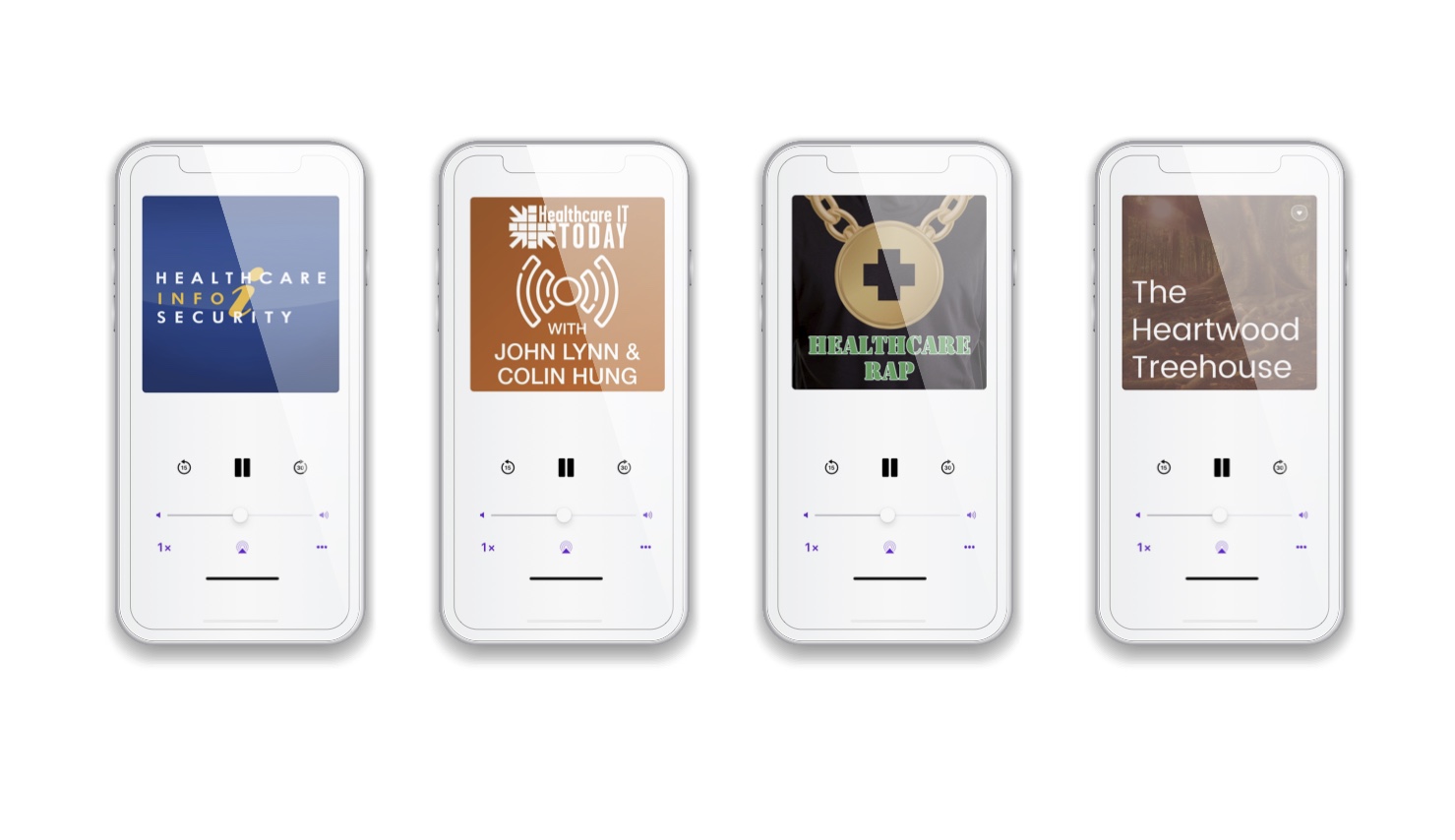 #9—Healthcare Information Security Podcast
This podcast follows an interview-style format with industry thought leaders shedding light on privacy, breaches, IT threats, risk management, technology, compliance and fraud on healthcare information security.
Can't Miss Episodes
#10—Healthcare IT Today
The world of technology and healthcare are ever-changing in new and novel ways. The Healthcare IT Today podcast covers the latest healthcare news and conversations designed to generate ideas and new perspectives. This podcast is perfect for those wanting a quick and easy-to-consume explanation of the hottest topics in health IT.
Can't Miss Episodes
#11—Healthcare Rap
Healthcare Rap takes a different approach to talking about healthcare. Each week the flavorful duo of self-proclaimed #digitalhealth influencer and rapper Jared Johnson, together with industry veteran Peter Balistrieri, challenges the status quo of healthcare marketing and technology in their unique style that both entertains and informs.
Can't Miss Episodes
#12—Heartwood Treehouse Podcast
Too busy for self-care? Look no further than the Heartwood Treehouse Podcast by Jacquelyn Fletcher. This podcasts allows you to take mini breaks from your busy schedule with quick stories and inspiring conversations to boost well-being and change your brain for the better.
Can't Miss Episodes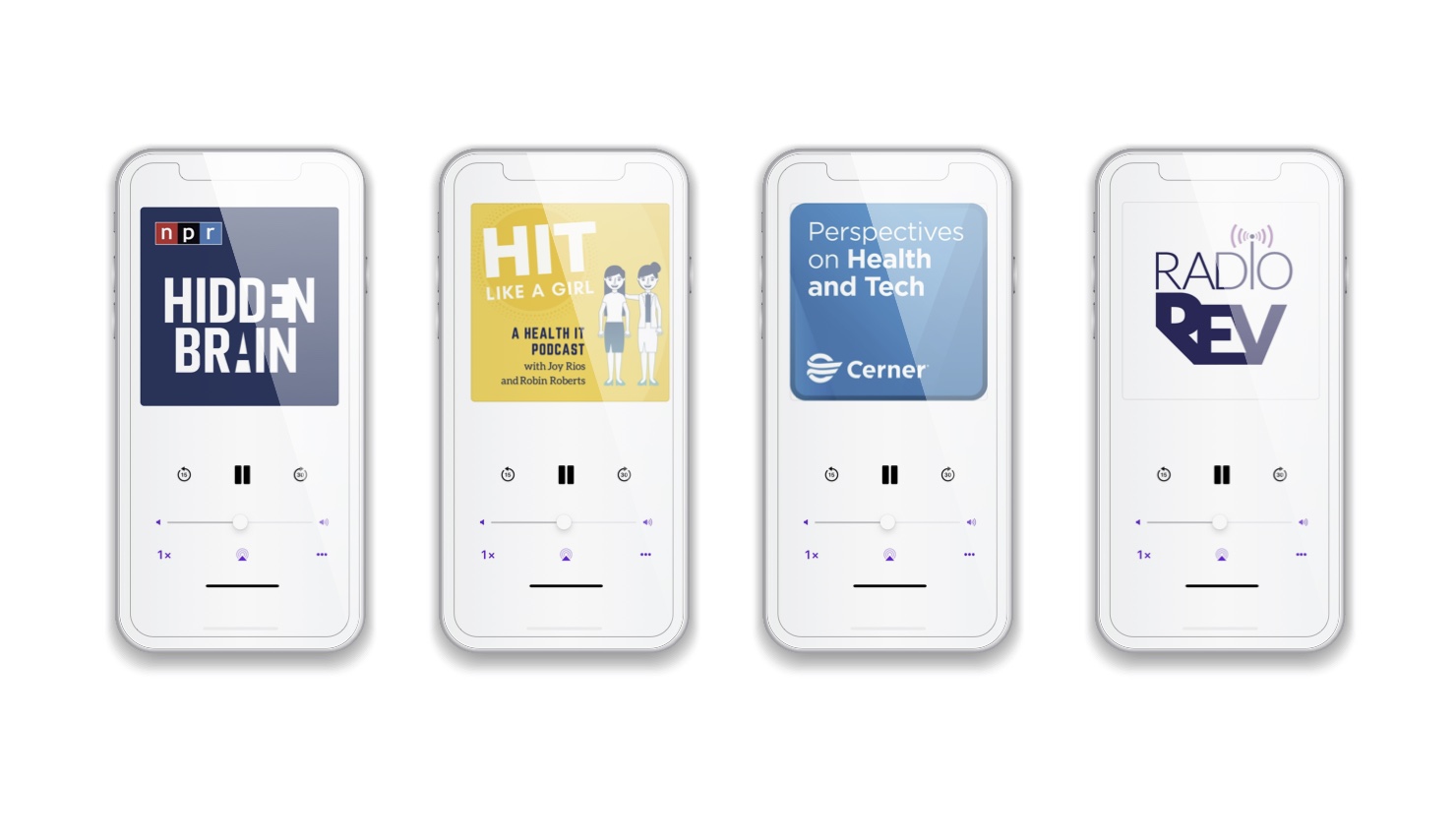 #13—Hidden Brain
This podcast hosted by Shankar Vedantam uses science and storytelling to reveal the unconscious patterns that drive human behavior, shape our choices, and direct our relationships. These episodes will make you think, teach you how people operate, and why our brains direct us to take (or not take) the actions we do.
Can't Miss Episodes
#14—HIT Like a Girl
Hosted by Joy Rios and Robin Roberts, they've created a space to learn from women that influence the diverse aspects of America's complicated healthcare system. The show covers various topics like healthcare policy, new technologies, and the patient experience that feature female subject matter experts as guests.
Can't Miss Episodes
#15—Perspectives on Health and Tech
Perspectives on Health and Tech is a podcast by Cerner with episodes focused on the systematic improvement of healthcare delivery and the health of communities. Episodes cover various topics from the powerful role of data analytics to the benefits of a common EHR system, as well as episodes that make you think a bit harder about the effect of our physical and social environments on overall health.
Can't Miss Episodes
#16—RadioRev
It wouldn't be a list of top healthcare podcasts if we didn't include our own! RadioRev is a podcast created by the health action experts at Icario. Designed for change makers in healthcare that are looking to do more than just health engagement, we talk to the leaders and innovators in healthcare that are bringing new ideas and inspiring innovation to make the world a healthier place.
Can't Miss Episodes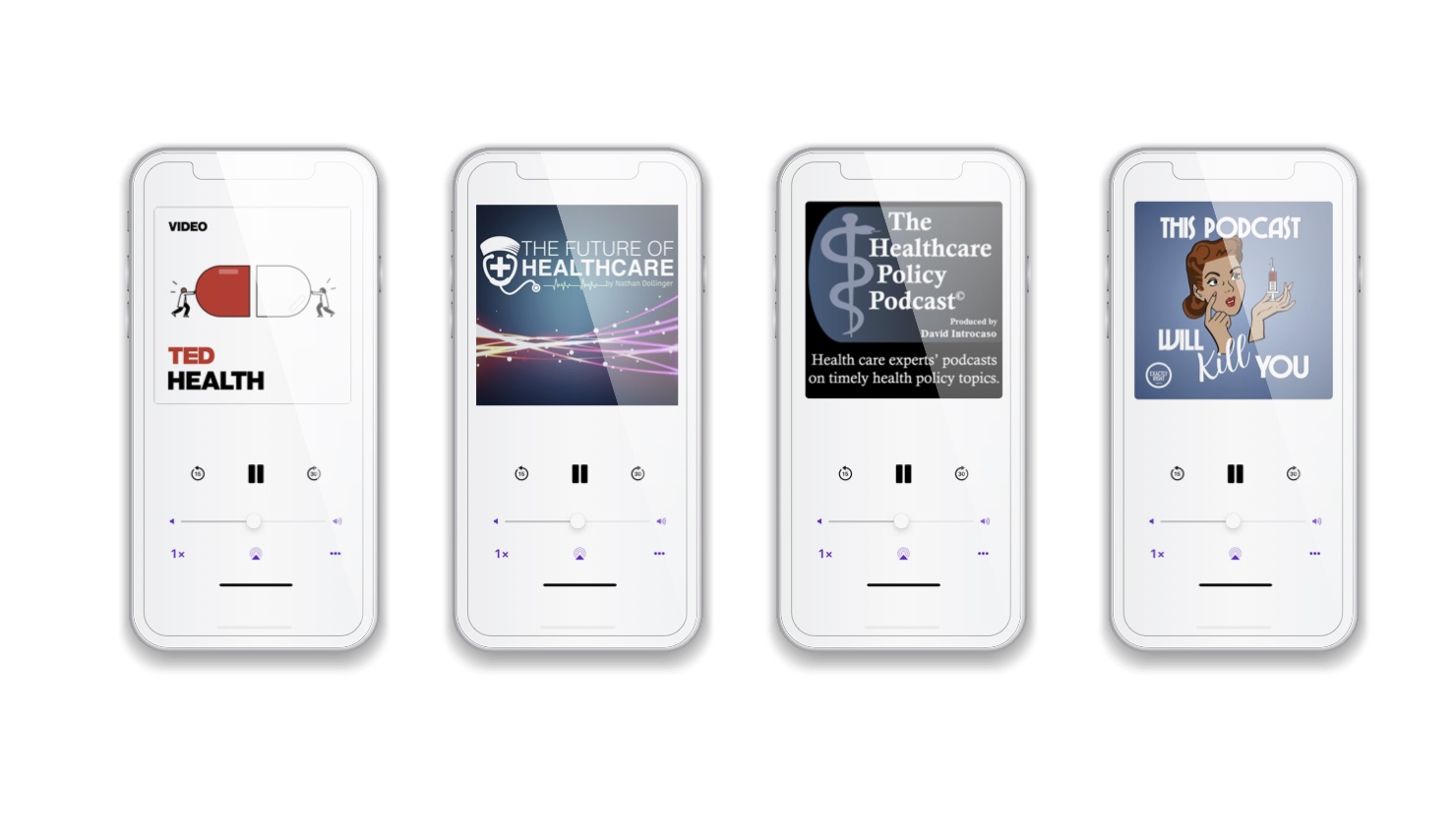 #17—TEDTalks Health
From new medical breakthroughs to smart daily health habits, doctors and researchers share their discoveries about medicine and well-being onstage at the TED conference, TEDx events, and partner events around the world. The TEDTalks Health podcast makes these diverse and noteworthy conversations accessible on the go.
Can't Miss Episodes
#18—The Future of Healthcare
Each episode of The Future of Healthcare podcast digs deep into a new aspect of healthcare with the goal of expanding the understanding of what the future looks like and how to make an impact. Every conversation features a current healthcare industry expert, from physicians and nurses to more outside-the-box guests like engineers and politicians.
Can't Miss Episodes
#19—The Healthcare Policy Podcast
This podcast features interviews with experts weighing in on the latest health policy issues. The Healthcare Policy podcast is a great resource for those looking to stay current on public health issues. Subjects range from the latest from Medicare and Medicaid, news regarding the Affordable Care Act, and topics around reforms in healthcare delivery from the private sector.
Can't Miss Episodes
#20—This Podcast Will Kill You
This podcast might not actually kill you, but it covers many things that can. Each episode tackles a different disease—from its history, to it's biology, and finally, how scared you really need to be about it. Ecologists and epidemiologists Erin Welsh and Erin Allmann Updyke host this out-the-box comedy podcast that'll leave you laughing, but you'll learn a lot, too.
Can't Miss Episodes
With these podcasts in your back pocket, you'll be armed with the latest healthcare news, trends, and insights to dominate 2020.
---