The recent podcast boom has left the market flooded with tons of options for programs to listen to while commuting, doing household chores or exercising. At Icario, we know it takes time to stay ahead of the trends. New information bombards us daily in this industry, and it can be hard to keep up. For that reason, we've whittled down a list of 100+ healthcare podcasts to report on our top five favorites.
Here are the top 5 Healthcare podcasts we're listening to right now:
#1 – 2 Docs Talk
Kendall Britt, MD and Amy Rogers, MD co-host 2 Docs Talk a podcast that is as intelligent as it is bubbly. Dr. Britt, a practicing hospitalist, is complemented perfectly by Dr. Rogers, who writes about healthcare policy and medical evidence. The two discuss problems they've encountered with engaging banter that gives listeners a fly-on-the-wall feeling as these two docs clearly articulate their perspectives on healthcare.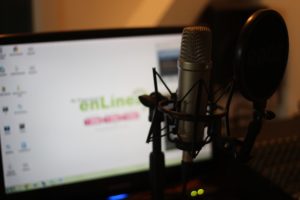 The expertise of these two Texans—in healthcare and podcasting alike—is apparent when you listen to one of their 15 minute weekly episodes. Topics discussed range from policy, challenges of treating certain conditions, to social and medicinal trends. Whatever the topic of the day is, Britt and Rogers will leave you feeling informed and energized.
#2 – The Future of Health
With an interest in solving the affordability and sustainability of healthcare, The Future of Health podcast brings a great deal of insight to the conversation. Drawing from a variety of perspectives in its interviews—guests range from startup entrepreneurs to consultants to people outside of the industry entirely—David Schiffer is able to address the core problems in healthcare from a novel point of view.
The Future of Health stands out for its willingness to discuss the broken system with guests, regardless of whether they come from a healthcare background or not. Perhaps the solution to some of the key challenges lies outside the sometimes stubborn realm of the healthcare world. At about 20 minutes, it's an easily digestible listen.
#3 – TedTalks Health
'Polished' is the word that comes to mind when listening to a TedTalks Health podcast. Each new episode brings a new speaker to discuss topics as diverse as the orators themselves. Always exceptionally profound, these seemingly disparate accounts of private struggles are tied in to the shortcomings of the healthcare industry. These stories manage to be personal and poignant, yet relevant and broadly applicable. This podcast helps us stay connected to the human side of the business with great stories combined with revealing facts.
A recent episode covered how the Liberian civil war taught a refugee-turned-doctor why access to care is paramount. Another reflected on a mother's terrifying discovery of her children's rare genetic disease, and how researchers can improve their approach to uncommon but life-threatening afflictions. TedTalks Health podcasts are a must listen for anyone who appreciates the personal side of healthcare along with real analysis.
#4 – 5 Minute Pearls for Clinical Practice
These quick hitters—as is evident in the name: 5 Minute Pearls for Clinical Practice—from Brian Morris, MD, are some of the best podcasts out there today. Patient-satisfaction focused, these pearls offer a concise way for doctors and others to learn evidence-based patient care strategies that aren't always taught at medical school. Though there are no guests, Dr. Morris's 20+ years of expertise in medicine combined with his communication skills—he has also written a bestseller—makes this one of the most coherent podcasts in the industry today. This podcast is an easy listen and packs well over five minutes of practical information into its succinct time slot.
#5 – The #HCBiz Show!
Don Lee and Shahid Shah offer their expertise in the business world to The #HCBiz Show! podcast that examines the obstacles that await entrepreneurs within the industry. With plenty of red tape to cut through, innovators face an uphill climb once they've come up with their revolutionary idea. These two health business professionals' sage advice can help startups get off the ground and make established providers aware of new solutions.
At roughly 45 minutes, these podcasts can dive even further into the substance of their discussions. With well-regarded guests supplementing the hosts' insight, this series is an excellent look into the structures behind the care you receive at the physician's office.
These six podcasts represent just a tiny fraction of what's available for people interested in healthcare. For whatever angle you're looking to learn more about, there is likely a podcast about it. The podcasts listed above are extraordinary in that they cover an extensive scope of topics while also managing to make informed conclusions. If you're interested in expanding your knowledge of the healthcare world, these podcasts are a great way to start.
---