The way healthcare communicates with people is broken—we've all seen it. The days of filling out a 7-page health assessment for each family member and mailing it back are over. In the trash.
Getting 3 emails delivered to junk mail topped with a robo call asking to schedule a wellness visit after just visiting the doctor last week—that's member abrasion. Hit delete.
Health Engagement is Not Enough.
Healthcare organizations may be constantly interacting with members and patients but they're not connecting—engagement isn't moving people to take action. Engagement rates of 60%, 70% or more don't necessarily equate to actual health action. Nor do they mean that people are being motivated to do something that's good for them. This gap between engagement and action is critical, because the actual ACTION is what leads to better health today, lower healthcare costs, and better outcomes in the long term.
Health plans and providers need to move to a more human-centric approach to keep their members and patients—think friendly conversations powered by smart technology and AI. This means putting data to work for healthcare like every other industry on the planet.
That's where health action takes over. Health action is about getting people to do things that are good for them. And you. It goes beyond checking the engagement box using data analytics, the right channels, and personalized messaging. Health action moves members and patients to do something specific that helps them to live longer, healthier lives and improve outcomes.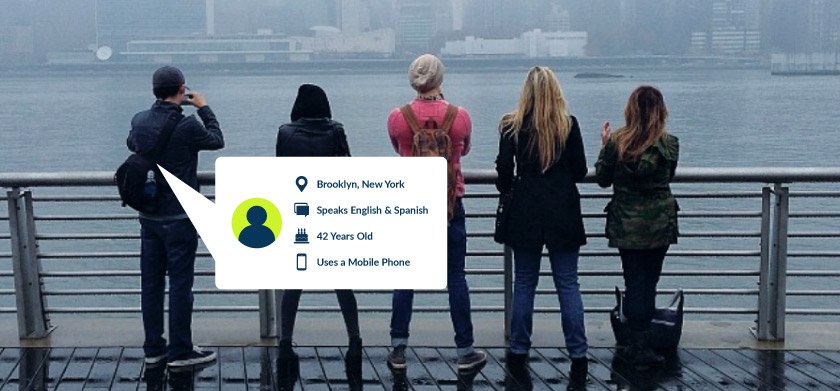 Every healthcare consumer has their own unique story. For example, we may communicate one way to the Medicare population with mail and interactive voice calls, but what happens when we find out that Americans aged 50 and older are spending more time on their mobile phone than Millennials?
When we dive deeper into those profiles, we find out more ways to communicate and meet them where they are—in this case, on their smartphones.
A recent report by the American Association of Retired Persons (AARP) shows that many Americans aged 50 and older are embracing technology to stay connected with their families and the world in general. According to the AARP's findings, 7 in 10 Americans above the age of 50 own a smartphone and 9 in 10 own either a Laptop or a Desktop PC.
Health action works better because it's personalized and based on individual data and preferences. In other words, the same set of channels won't work equally well for every person, even within the same generation.
It may take a combination of the right mix of channels to inspire action, but continuously collecting data will help humanize and support this process. No matter a person's preferred communication method, understanding and taking action on this data will help drive precision health engagement. When we develop communication and outreach plans as unique as the individuals receiving them, we're maximizing the likelihood of engagement. As a result of this personalized approach, people feel empowered to take action.
The evidence for the benefits of health action is compelling. Increased consumer satisfaction and loyalty, improved acquisition and retention rates, lower administrative costs, and improved profitability are just the beginning.
Healthcare Consumers Demand Amazon-like Experiences.
59% expect their healthcare customer service to be as good as Amazon's.
Why should people change their expectations because it's healthcare?
Health action is a giant leap toward an Amazon-like model for health engagement—when we understand healthcare consumers well, it moves them to take action. How can healthcare win over the hearts and minds of their members and patients? It starts with data.
Data scientists can apply tools and techniques to blend contact strategy with the member or patient profiles. These may include regression techniques to assess channel preferences and campaign propensity, clustering techniques to develop smart segmentations, and even machine learning to recommend dynamic script choices, copy, or creative executions.
The bottom line is that healthcare is personal. Each member or patient is living with their own individual challenges, interests, and values. We need data analytics to drive personalization, which is the key to stronger engagement and moving people to take action.
Personalized communication lets healthcare consumers know health plans and providers think of them as individual human beings, not just an illness, condition, or set of symptoms. Treating humans uniquely in a healthcare setting has shown to drive better outcomes overall without increasing costs.
And with that, great health action programs can be designed. Imagine this:
These are real examples of the power of health action, which led to better outcomes, lower healthcare costs, and healthier people.
Health Tech Goes to 11.
By 2020 there will be 50 billion devices connected to the internet, many of which will track individual health data. [source: HealthITAnalytics]
No industry today is as dynamic as healthcare. It's amazing to see how smart tech helps make it better, like AI, NLP, and machine learning which are already taking healthcare consumer experiences to a whole new level. With the innovative, flexible health action platforms that exist today, we can truly help people live longer, healthier lives.
The most advanced health action platforms incorporate an architecture that is flexible enough to adapt to the changing needs of the healthcare space. And they are customizable for personalization to avoid member abrasion. The right platform will leverage all the data within our grasp to build robust member and patient profiles with unique information. This breaks the "average" mold and gets to the real needs of each individual.
These profiles help healthcare organizations to craft specific messages and construct communication sequences using each members' or patients' preferred channels—that's AI. As health action is attained, the platform will learn and improve with every new campaign—that's machine learning.
It's fascinating to see the ways in which data driven health action uses advanced technologies like AI, NLP, and machine learning to move away from generalized statistics, and toward more humanized engagement that moves people to do things that are good for them.
With health engagement in the rearview mirror, health action keeps individuals at the center of healthcare communications. This inspires people to take action now and improve their health for years to come.
---